M. Persis Johnson Room
Reference & New Hampshire History
The Johnson Room, located in the back of the library, is a cozy room designed for quiet research. Visitors may sit at the desk or round table to do research, or read in the comfortable upholstered chairs.
The room may be used for quiet discussion, but remains a public room.
Some of the highlights of our New Hampshire history collection include:
Captured! : the Betty and Barney Hill UFO experience : the true story of the world's first documented alien abduction
Laws of New Hampshire, the New Hampshire Constitution, and other government volumes
Information for victims of domestic violence
Profile yearbooks
Books on the Cog Railway
Books on our mountains and geology
Information on the Grand Hotels and Tourism history
AMC White Mountain Guides
Humor, essays and poetry about New Hampshire and the North Country
Trail maps and hiking guides
Stark decency : German prisoners of war in a New England village
Bethlehem Town History and Early Families of Bethlehem
Pictorial histories of many of North Country towns
Cruising New Hampshire history : a guide to New Hampshire's roadside historical markers
---
Who was Persis Johnson?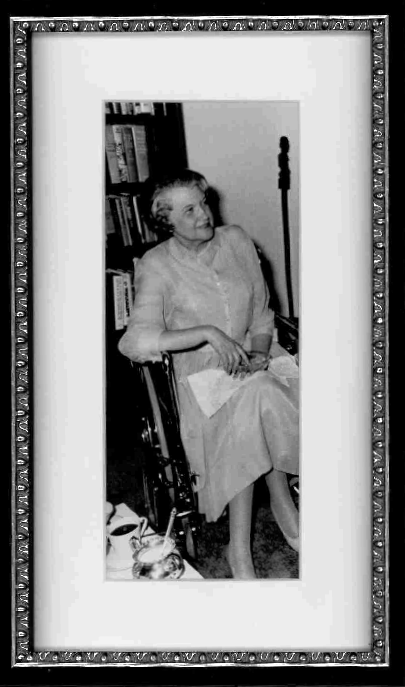 Persis Johnson's attachment to Bethlehem began when, as a child, she spent summers with her grandmother, Abbie, whose parents had bought a house in Bethlehem in 1857. After her grandmother's death, she came most summers with her parents and later with her younger sister, Marilyn, to spend a few weeks at the family home. After Marilyn's retirement from the Foreign Service, she oversaw the modernization of the house and spent her final years there.
Persis was 14 when she contracted polio while playing on the beach near her family's home in Wollaston, Massachusetts. Little was known about the disease in the 1920's and despite treatments in Boston and a winter in Florida for water exercises, she lost control of her legs and left arm. Because she broke out of the wooden "cast" on her right arm she was able to use that arm while her other limbs, which had remained constrained, were of no use.
The polio, however, did not affect her mind. To make up for not being able to attend high school classes, she read books and periodicals and participated in conversations about current events with relatives and friends.
The arrival of modern, collapsible wheelchairs after World War II expanded Persis' horizons. She joined a Great Books group in the area. There she was "adopted" by the group leaders who encouraged her to become a leader herself and to attend Great Books seminars at New England Colleges. She led adult groups in the Quincy area and started a Junior Great Books class in a local high school.
Persis flew unaccompanied to Paris to join her sister in Orleans, France and later traveled with her mother and sister by car throughout Europe. After her mother's death, she again flew, unaccompanied, to West Africa where her sister, Marilyn, was serving as United States Ambassador to Togo. Persis ran the household and helped entertain guests at representational events her sister held in postings to other West African countries as well as in Islamabad and Moscow.
Persis and Marilyn were very close all their lives. Marilyn wished to honor Persis by naming our History and Reference Room (which includes our Great Books collection) after her.
---